They are not merely mobile homes: our  ItalyVillas are lodge that can accommodate up to 5 (+1) people.
Two bedrooms, a double one and a triple one, as well as a sofa bed in the living area. They are furnished with a fully equipped kitchen and a terrace with private garden where you can spend your summer evenings in good company.
Our ItalyVillas: 40 m² family-sized, close to the waterpark, in a setting that encourages getting together with others and creates a livable atmosphere, in the tradition of the Italian villages where people enjoy getting to know one another. In-between a safe walkway where, children can play, make friends and have fun in total safety while parents relax on the terrace and have a chat with the neighbours.
This solution combines all the benefits of an open-air holiday spent among the maritime pines and lush plants characteristic of the Cavallino Treporti coast with all amenities at your fingertips.
Information
In mid and high season, the ItalyVillas are rented for full weeks only, from Saturday to Saturday (nr. 501 to nr. 508) also from Friday to Friday (nr. 511 to nr. 519)
On the arrival day, ItalyVillas are available from 3:00 p.m.
On the departure day, ItalyVillas must be vacated by 9:00 a.m.
Map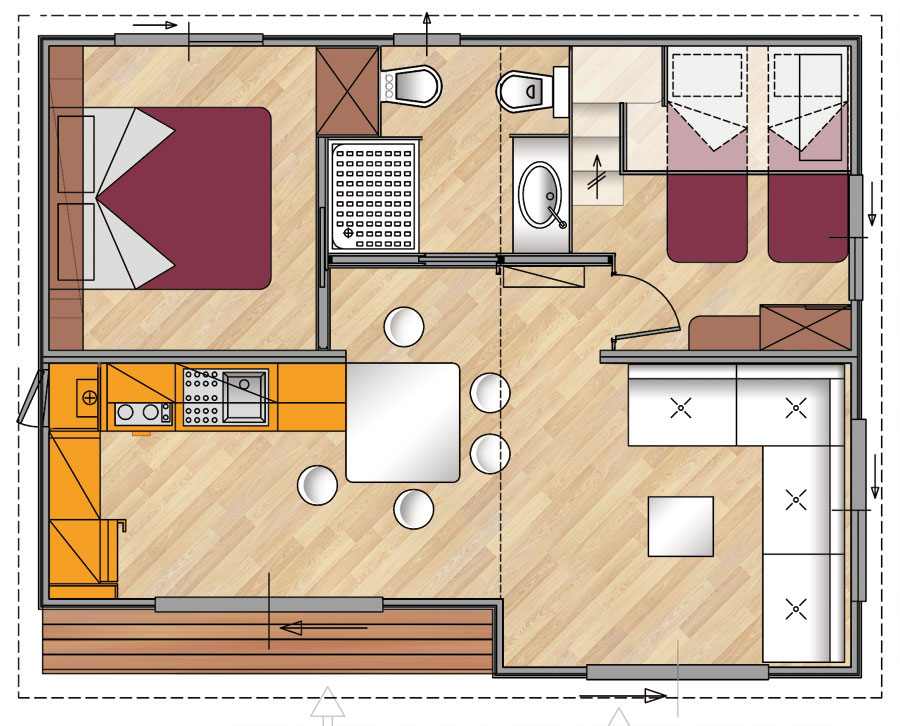 The prices include
hot water
air conditioning
use of the beach
use of the swimming pool
electricity supply
cleaning service on departure
10% VAT
Prices do not include
Prices do not include tourist tax
use of the equipped beach with sunbeds and beach umbrellas.
sheets, pillowcases and towels
ItalyVillas are made up of:
- living room with kitchenette
- 1 bedroom with 2 beds
- 1 bedroom with 3 beds
- bathroom with shower
- outdoor terrace
- private garden
- 1 car-parking space
- equipped with microwave oven, TV-SAT, air-conditioning and dishwasher
- kitted out with pots, pans and crockery
- guests must provide their own sheets, pillowcases and towels.
Prices
In mid and high season, the ItalyVillas are rented for full weeks only, from Saturday to Saturday (nr. 501 to nr. 508) also from Friday to Friday (nr. 511 to nr. 519)
Prices per night 2023 from 28.4 to 25.9
MIN
MAX
ItalyVilla
(4 Persons included)
€ 105,00
€ 330,00
Adult
€ 7,00
€ 15,00
Senior (from 60 years)
€ 5,00
€ 15,00
Children (from 1 to 5 years)
GRATIS
€ 11,00
Baby (up to 12 months)
GRATIS
GRATIS
Extra car/motorcycle
€ 4,00
€ 10,00
Beach Card
(sun umbrella and 2 deckchairs)
€ 15,00
€ 20,00
DO YOU WANT TO HAVE YOUR PERSONALIZED OFFER? CLICK HERE, ENTER THE NECESSARY INFO, CALCULATE AND BOOK YOUR HOLIDAYS
not include tourist tax
http://www.impostasoggiornoct.it
TERMS AND CONDITIONS
Gallery